Carrington Mortgage Loan Payment: Carrington, also known as CMS, provides a wide range of real estate services covering almost all the aspects of single-family housing real estate dealings in the United States. There are many methods through which Carrington Mortgage can make their loan payment on time without dealing with any trouble. All these options are convenient and always satisfy the client's need.
Carrington Mortgage Loan Payment Options consist of:
Online Payment
By Mail
AutoPay
Payment Over Phone
Via third-parties
These above-mentioned payment options are all offered by the CMS in order to make the payment process of Carrington Mortgage clients comfortable and easy. With the help of this article, we have described and explained all of these payment options to give an overview about them which will help you out to select the best option according to your liking or preference.
How to Make Online Payment of Carrington Mortgage Loan?
For using the online services provided by Carrington for the mortgage payment, the customers should enrol first and create their online account. At the enrolment process, login credentials are created after which you can easily login by using them such as your username and password. However, your online account will not only be useful for making the bill payment but also for performing several account activities such as checking your statement, verifying your loan details, payment history, review account activity, etc.
For making the payment online, you have to visit the web portal www.carringtonmortgage.com on your device and then login by entering the credentials at the homepage of the site. After you are logged in, click on the "One-Time Payment" option and provide details over there to make the instalment. However, make sure that there will be a $5 processing fee that you have to pay along with the monthly bill payment.
In addition to that, CMS also offers AutoPay payment option to its customers without charging any extra fee. In this option, your monthly instalment will be directly drafted from your account and the payment will be done on time without facing the issue of late fee. But first, you have to enrol in AutoPay in order to use its services and in order to do that visit the official site and go to your account's payment section and then click on "Automatic Payments". Your bank details along with the payment details will be asked there, so provide all the information correctly and then save the settings as well.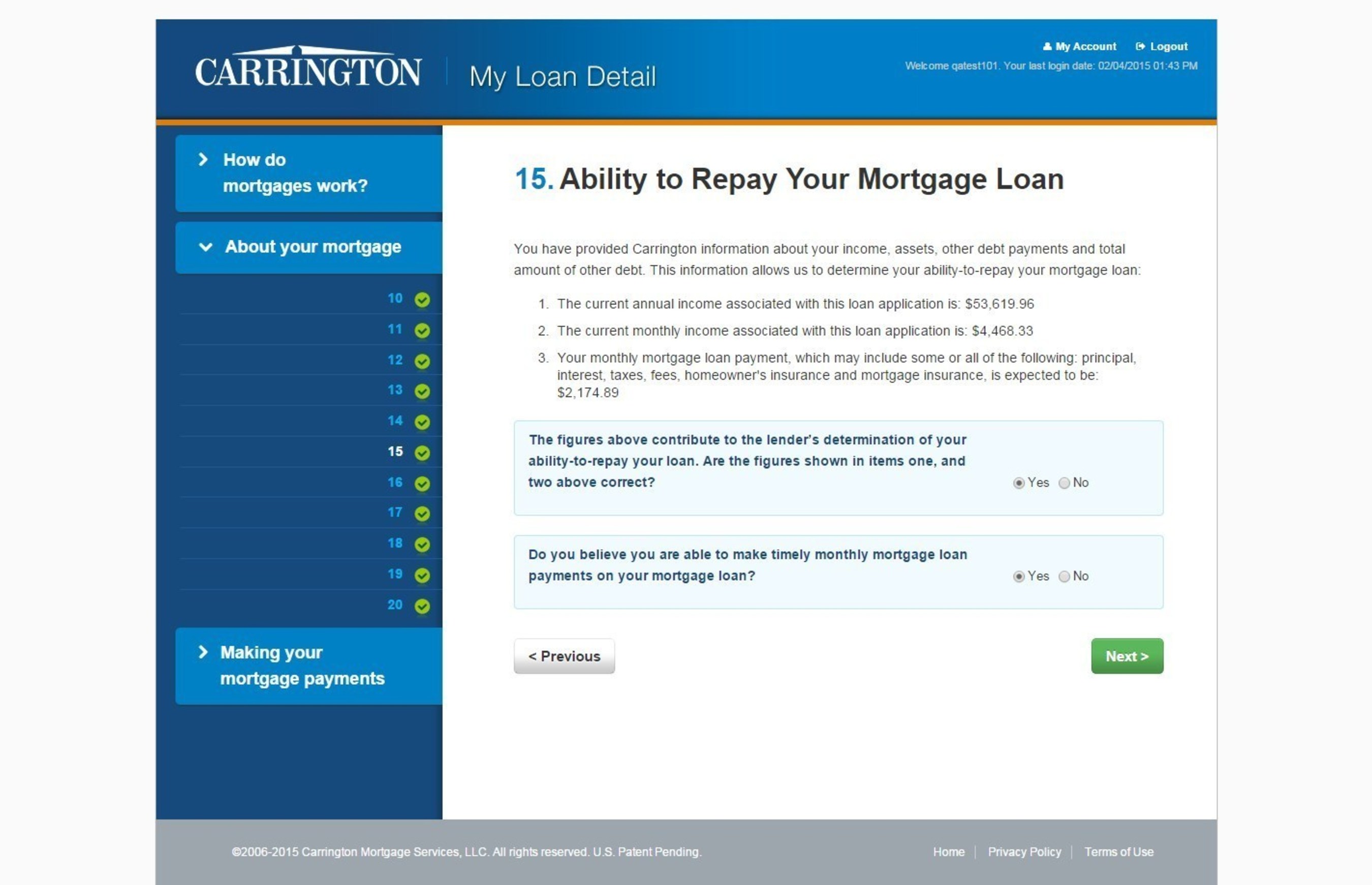 How to Make Carrington Mortgage Payment by Mail?
For the clients who mainly prefer payments through the mail must know that Carrington also offers mail services to its customers. All you have to do is to send the bill payment through mail and make your cheque payable to the Carrington Mortgage Services, LLC and send the payment to this following address:
Carrington Mortgage Services, LLC
Attn: Payment Processing
P.O. Box 79001
Phoenix, AZ 85062-9001
If you are making Overnight Payments through the mail for speeding up your payment process, then send your instalment to this address:
Carrington Mortgage Services, LLC
Cashiering Dept 2-270
1600 South Douglass Road, Suites 110 & 200-A
Anaheim, CA 92806.
How to Make Carrington Mortgage Loan Payment Over Phone?
With the automated pay-by-phone system, the customers of Carrington Mortgage can easily make their bill payment over the phone. The best part is that this service is accessible for 24 hours a day that means you can call at their service number at any time whenever you want to for making your monthly payment. For using this service, you have to call at 800-561-4567, however, before calling at this number you should be prepared with your loan number, bank routing number as well as your checking account number in hand because these details will be asked from you for confirming your identity.
Note: One must take note that this service is not for free, so you have to pay a $10 processing fee while making your bill payment via phone.
In addition to the phone payment, Customer Service representative agent can also make your payment for which you have to call at this number: 800-561-4567. However, if you go for this option, it will also cost you extra charges which will be a $20 processing fee. Make sure to call the Customer Service Agents on this scheduled timing i.e., Monday to Friday 8 am to 8 pm EST.
How to Make Carrington Mortgage Loan Bill Payment Through Third-Party?
The clients of Carrington Mortgage Loan can also make the payment through third-party like:
If you prefer to make your bill payment in person then Western Union might be a good option for you. It is a very easy process for making loan instalment which can be processed at any Western Union Quick Collect location. Al you have to do is to just locate the nearby location of the Western Union Agent and in order to know that you can give a call at 800-325-6000 or simply visit the official site at www.westernunion.com.
After visiting at the nearest location, you can get the Western Union Quick Collect Payment Form from there. While filling the form, you have to write down these following details such as–Pay to: Carrington Mortgage Services, LLC; Code City: CARRINGTONMS; State: CA
Then you have to submit the form and after the close of business, the Quick Collect payments will be soon transmitted to their office as well as the payment will be then applied to your account the following business day. This service by Western Union will be chargeable and the customer has to pay an extra $8 fee along with the mortgage bill payment.
Final Verdict
Talking about the other third party, Money Gram, is also very useful and convenient for making Carrington Mortgage Loan Bill Payment which can be easily managed at any MoneyGram payment location. In order to know the nearest location, you can go to the web portal, the link for which is www.MoneyGram.com or else you can make a call at 800-926-9400. For their services as well, you will have to pay extra fees, also make sure to use Carrington's receive code that is 7998.