Ditech is a very well-known financial institution that also offers Mortgage services to its customers and with that, the clients also get a range of payment options to choose from. The new or the existing Ditech customers who are not well aware of Ditech Mortgage Payment Options are at the right platform as we are going to discuss all of them. Read the following article to know detailed information about the mortgage bill payment options offered by Ditech.
What Are the different Online Payment Options of Ditech Mortgage?
With Ditech Mortgage, the customers get several different options through which they can make the payment on time without facing any problem. Customers can use any of their payment options as Ditech accept many payment methods that they are offering their clients to make their monthly instalments. Below we have mentioned all those options through which they can pay their Ditech Mortgage on time every month.
Method 1: Instant Electronic Payment
The Ditech Mortgage Customers can also get this one-time electronic online payment option for making their mortgage instalment. The best part about this online payment method is that you don't have to pay any extra fee to use this service. In order to make Ditech Mortgage payment through Instant Electronic Payment method, the clients must need to log in to their MyAccount, for this, they have to visit the official site at https://www.ditech.com/login. For login, you have to provide your login credentials correctly and as soon as you are logged in, you should proceed the process by clicking on the Make a Payment option.
Note: For making the Ditech Mortgage payment successful, the customer should provide some important details such as Bank account number and bank routing number. Only after providing these details correctly, your payment will be made successfully.
Method 2: AutoPay
AutoPay is basically free service offered by Ditech to their customers for making the mortgage payment. It is considered to be one of the very popular mortgage payment options accepted by many clients. The best thing about this payment option is that it helps you to sidestep missing your mortgage payments along with that you can avoid making late fees. Mortgage payment through AutoPay is very easy as your monthly instalment will be deducted from your checking or savings account automatically. However, one must need to opt-in for this AutoPay option by login to their online account where you will find this mode of payment.
Method 3: Automatic Bill Pay Service  
The clients can also ask from their bank regarding this payment option whether they provide it or not. This automatic bill-paying service let your bank to transfer your mortgage payment every month directly to the ditch from your checking or savings account. While in this process, you have to just is provide your bank with certain details such as your account number from Ditech Financial LLC. This service is basically free of cost, but you must still check with your bank before opting for this payment option.
Here is the mailing address of the same:
Ditech Payment Processing
PO Box 94710
Palatine, IL 60094-4710.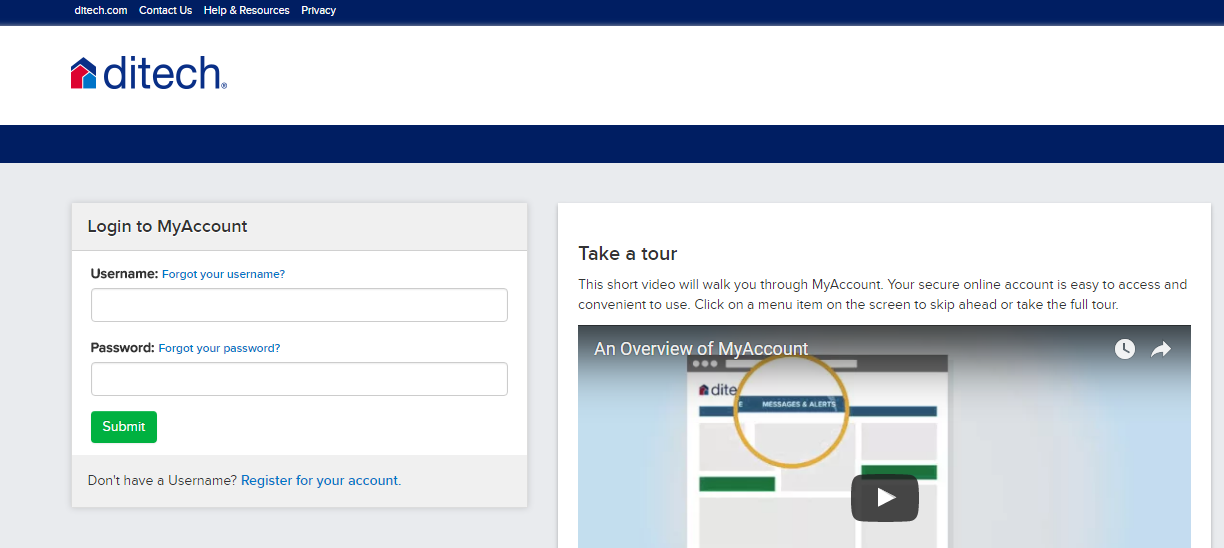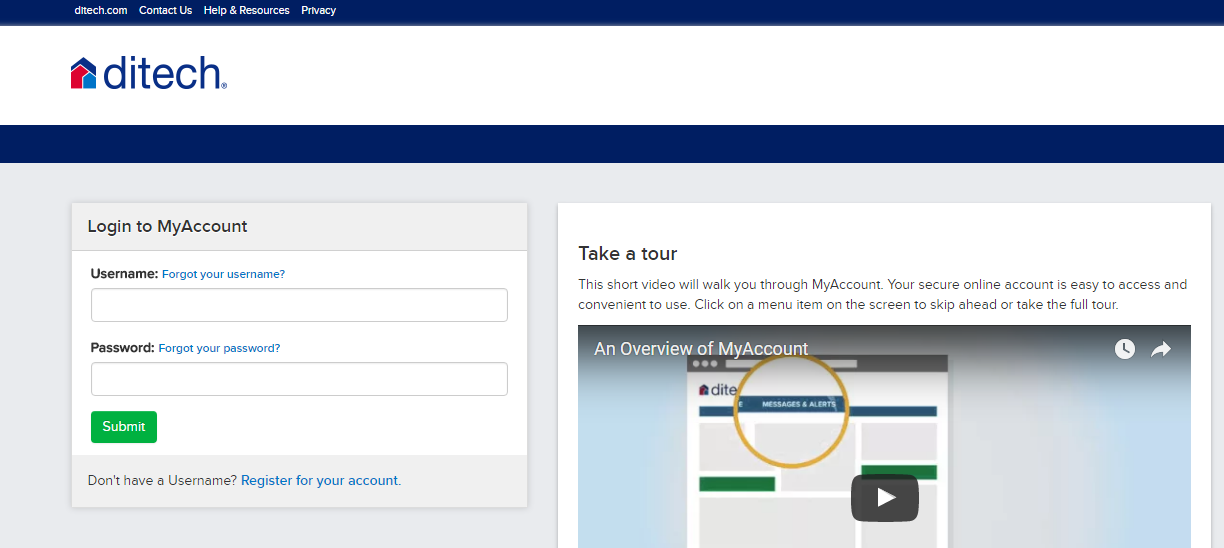 Alternative Ditech Mortgage Bill Payment Options
There are some other payment options that the clients of Ditech Mortgage get while making the payment on time. We have discussed all the other payment options other than the online method that we have discussed above. If you don't want to go for the online option and want to give it a try to some other options then go for these below mention methods that we have listed here.
1) Bill Payment through MoneyGram
In order to make Ditech Mortgage monthly payment via MoneyGram, all you have to do is to visit the nearest MoneyGram. In order to find out the nearby location of MoneyGram, you can visit the official website at www.moneygram.com. Another method is to call at this number: 1-800-926-9400. In addition to that, you must be required to pay in cash for paying your mortgage payment. You must take note that MoneyGram fee will also be applied which you also have to pay in cash at the time of mortgage payment.
Note: Also, make sure to provide these details to MoneyGram i.e., your Ditech account number, receive code of Ditech—0314 and the Payment must be made payable to Ditech.
2) Bill Payment through Western Union
If you want, you can also easily make the mortgage bill payment through Western Union. This method of payment considered to be one of the fastest and secure ways of making payment. All you have to find the nearby participating agent location by visiting the official online portal at wu.com or just by calling at this number: 1-800-225-5227. After finding the location, you should proceed with the process with your account number to the service counter. At the service, counter tells the clerk the company name that you want to make the payment along with the amount. After submitting the amount, you are going to get a receipt with an MTCN (Money Transfer Control Number), this will be useful to you for tracking your payment.
3) Bill Payment by Mail
Last but not the least, mortgage bill payment by mail has been practised by many customers. With this method, the clients can easily make the monthly payment via mail. If you want, you can send a cheque or else the money order for making payment. If in case you have received a paper statement, then you must also include the coupon listed at the bottom of your statement. While receiving GreenBill online billing statement, there will be no requirement of coupon and you just have to note your account number at the back of your cheque or money order.
You must make sure to send the payment early enough before the due date. Simply mail the payment at this mail address: Ditech Financial LLC, PO Box 15009, Tempe, AZ 85284-0109.
The Wrap-Up
These were the Ditech Mortgage Payment Options for all its customers to choose from. You must select the right one according to your preference. If in case you have any question regarding the same, then you can either contact their customer service directly or can ask in our comment section below.